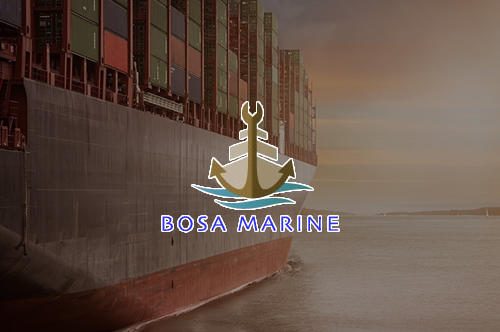 About us
BOSA MARINE SERVICES
Bosa Marine Services Co.Ltd. has been found on 2011 in Istanbul TURKEY. Bosa provides ISO qualified,SOLAS & IMO approved services and products to the customers.
We are giving below services to our customers ;
* Marine Safety Equipments
* Marine Technical Equipments
* Engine Spare Part Supplies
* Major & Minor Repair Services
* Provision & Bonded Store Supplies
* Compass Adjustement Services
* Lashing & Cargo Securing Services
We are servicing on all Turkish ports and straits.
TECHNICAL SOLUTION PARTNER
In emergency situations related with your ship's technical problems, our technical staff answering your questions 7/24 and we are presenting perfect solutions. M/E,Seperator,Deck Crane and many technical spare parts can be found on our stocks, and with our global spare part network, they are delivering to your adress. (Wartsila,Sulzer,Man,Man B&W,Cummins,Deutz,Yanmar,Alfa Laval,Hanshin,Mitsubishi,Iveco,Fiat)
GLOBAL SERVICE NETWORK
Bosa Marine, provides you a good service for technical solutions,marine equipments and spare parts on many countries with global supply chain network. Generally we are supporting our customers on United Arabian Emirates (UAE), Indonesia(Surabaya,Jakarta,Batam), Singapore, Mexico(Vera Cruz,Campeche,Puerto Vallarta), United States Of America(USA), England and Germany.
COMPETITIVE PRICES
Bosa provides you very competitive prices. In global financial standarts, we are trying to keep our prices the best.